Angels Night Out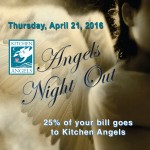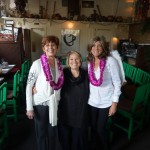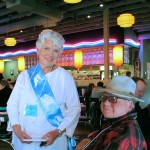 Our always popular fundraising event,
Angels Night Out
, will be held on Thursday, April 21, 2016. This year, our 18th year of Angels Night Out, we are honored to have 29 restaurants participating that will be very generously donating 25% of your bill to Kitchen Angels. Once you choose a restaurant for breakfast, lunch or dinner, all you need to do is call for a reservation and enjoy! Remember to make your reservations early. Click on the restaurant names below to visit their websites (please note that not all restaurants have websites).
BREAKFAST The Teahouse 
992-0972
BREAKFAST & LUNCH
Tecolote Cafe 
988-1362
LUNCH
Omira Bar & Grill
780-5483
LUNCH & DINNER
Andiamo!
995-9595
Piccolino Italian Restaurant
(no reservations)
TerraCotta Wine Bistro
989-1166
The Ranch House
424-8900
DINNER
315 Restaurant & Wine Bar
  986-9190
Bouche Bistro
982-6297
Bourbon Grill 
984-8000
Café Castro
473-5800
Café Fina
(no reservations)
Café Pasqual's
983-9340
Counter Culture
(no reservations)
Cowgirl BBQ
982-2565
El Mesón
983-6756
Fire & Hops
954-1635
Galisteo Bistro
982-3700
India House
471-2651
Jambo Café
473-1269
L'Olivier
989-1919
Mariscos Costa Azul
473-4594
Midtown Bistro
820-3121
Pizzeria Espiritu
424-8000
Plaza Café Southside
424-0755
Santa Fe Bite
(no reservations)
Sazon
983-8604
Second Street Brewery at the Railyard 
989-3278
Vinaigrette
820-9205