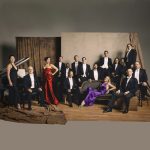 Amp Concerts and Kitchen Angels are pleased to announce Pink Martini and the Santa Fe Symphony Strings at the Santa Fe Opera Theater on Wednesday, August 30, 7:30 pm. This inaugural Opera Charity Gala is in celebration of Kitchen Angels' 25th anniversary.
Featuring a dozen musicians, Pink Martini "draws inspiration from music from all over the world- crossing genres of classical, jazz and old-fashioned pop." This widely appealing band performs its multilingual repertoire on stages all over the world in an attempt to unite people of every country, language, religion, and political affiliation. Pink Martini's upbeat music and attitude of inclusivity pairs beautifully with Kitchen Angels' generosity and collaborative spirit.
Ticket prices range from $29 to $109 and can be purchased at AmpConcerts.org or SantaFeOpera.org 
Kitchen Angels is a community-supported and volunteer-driven organization that has served the residents of Santa Fe and Northern New Mexico for the past 25 years. Kitchen Angels prepares and delivers nutritious meals to those who are homebound, in a health crisis, lack the resources for regular meals, and are not eligible for other local meal services. Kitchen Angels believes no one in our community who is homebound because of a chronic, surgery-related, or terminal medical condition should ever go without appropriate nutrition.