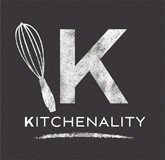 KITCHENALITY is back! It's bigger and better than ever and operating out of the newly completed space on the south end of Angel Depot. It even has a dedicated entrance from our front parking lot. Just look for the RED door and you're steps away from some great bargains.
Our aim is to keep the store stocked with irresistible and gently used cooking and entertaining ware, so we need your help! This Spring as you clean the stale winter months from your home and make space for a fresh look, please think of KITCHENALITY. We are looking for pots, pans, bakeware and linens that you no longer use, but are in good shape and need a new home.
Please remember that all profits from the store help to feed our clients. Last year KITCHENALITY sponsored 88 people for a full year!
So, this spring cleaning season, please keep us in mind and glean a few good items for the store. And, while you're here, take a look around. There may be some special something that you just can't leave without!
KITCHENALITY is open at our offices at 1222 Siler Road, Tuesday through Saturday from 10 am to 5 pm.
If you would like to donate items, please call us at 505.471.7780 extension 206.
If you are interested in volunteering to help staff our store, please call us at 505.471.7780. The job doesn't require a lot of standing, so it's perfect for our volunteers who can't work in the kitchen or deliver. Please call us if you're interested in helping in the store.