KITCHENALITY will re-open on December 7, 2020.
Store Hours: Monday – Saturday, 10:00 am – 2:00 pm.
Please be aware of these safety protocols.
We're limiting the number of customers who can be in the store at one time to no more than five.
A volunteer will be screening customers before they are allowed into the store, asking if they've been adhering to appropriate risk-mitigating and social distancing protocols. Face masks and gloves will be required. If you don't have your own, we'll provide them. Folks who have recently arrived in Santa Fe from out of state may be asked to wait 14 days before they can visit the store.
Please know there will not be public access to the restrooms in the building.
Just look for the RED door and our new giant Rolling Pin signage and you're steps away from great bargains.
Our aim is to keep the store stocked with irresistible and gently used gourmet cooking and entertaining ware. Please think of KITCHENALITY when downsizing or cleaning out your kitchen as we're looking for pots, pans, bakeware and linens that you no longer use, but are in good shape and need a new home.
All store profits help feed our clients. Last year KITCHENALITY sponsored 88 people for a full year!
KITCHENALITY will re-open soon at our office at 1222 Siler Road.
If you would like to donate any items please call 505.471.7780 extension 206.
If you are interested in volunteering to help staff our store, please call us at 505.471.7780. The job entails sorting, washing, stocking merchandise and running the cash register.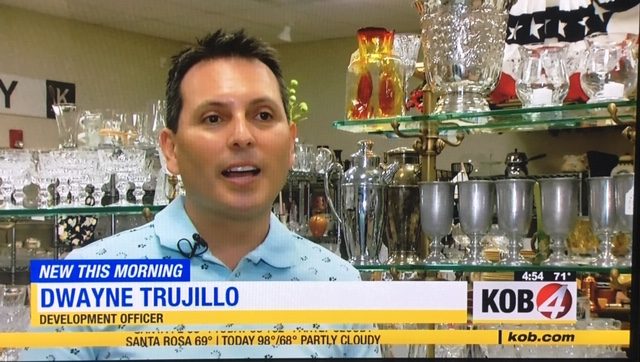 Kitchen Angels makes KOB News!
Click here to view video.