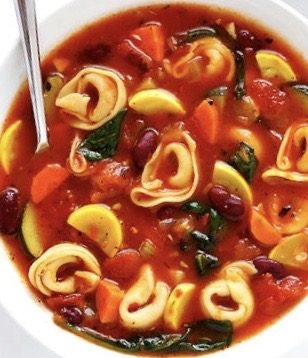 Ingredients:
2 tablespoons olive oil
1 medium white onion, peeled and diced
3 cloves of garlic, peeled and minced
2 carrots, peeled and diced
2 stalks celery, diced
4 cups of chicken or vegetable stock
1/4 cup tomato paste
2 (14.5 ounce) cans fire-roasted diced tomatoes
1 (15 ounce) can dark red kidney beans
1 zucchini, diced
1 yellow squash, diced
1 teaspoon Italian seasoning
2 handfuls fresh baby spinach
1 (10 ounce) package of refrigerated cheese tortellini
salt and pepper, to taste
Directions:
Heat oil in a large stockpot over medium-high heat.  Add onion and sauté for 3 minutes, stirring occasionally.  Add garlic, carrots, and celery, and continue sautéing for 5 more minutes, stirring occasionally.
Add the stock, tomato paste, tomatoes, kidney beans, zucchini, yellow squash, and Italian seasoning, and stir until combined.  Bring the mixture to a simmer.  Then reduce heat to medium-low, cover, and simmer for 10 minutes to let all of those good flavors meld together.
Stir in the spinach and cheese tortellini, and cook according to package instructions until al dente (usually about 5-6 minutes).
Taste, and season the soup with salt and pepper.
Serve immediately.