DUE TO CURRENT EVENTS KITCHENALITY WILL BE CLOSED UNTIL FURTHER NOTICE.

KITCHENALITY is open Monday through Saturday, 10:00 am – 5:00 pm. Just look for the RED door and our new giant Rolling Pin signage and you're steps away from great bargains.
Our aim is to keep the store stocked with irresistible and gently used gourmet cooking and entertaining ware. Please think of KITCHENALITY when downsizing or cleaning out your kitchen as we're looking for pots, pans, bakeware and linens that you no longer use, but are in good shape and need a new home.
All store profits help feed our clients. Last year KITCHENALITY sponsored 88 people for a full year!
KITCHENALITY is open at our office at 1222 Siler Road, Monday through Saturday from 10:00 am to 5:00 pm.
If you would like to donate any items please call 505.471.7780 extension 206.
If you are interested in volunteering to help staff our store, please call us at 505.471.7780. The job entails sorting, washing, stocking merchandise and running the cash register.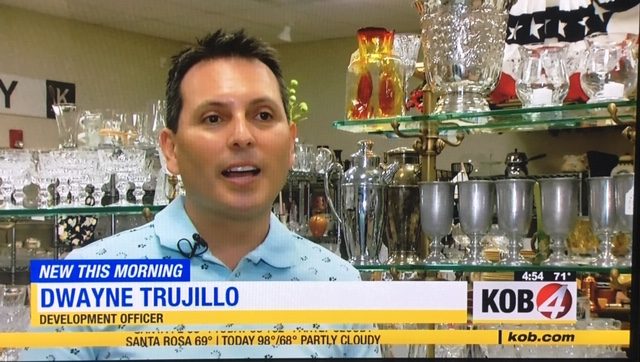 Kitchen Angels makes KOB News!
Click here to view video.