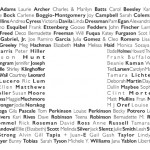 Come join us for our highly popular, one-of-a-kind silent auction of over 100 original artworks created by local artists. Artists select boxes of different sizes and create beautiful and unique works of art.
VIP Exclusive Preview takes place from 5:30 to 6:30 pm. Tickets $75. Includes food, spirits, reserved seating, and Free Parking at the SFCCC.
Box Auction is from 6:30 to 8:30 pm. Tickets $35. Includes food, Free Parking at the SFCCC, and cash bar.
For tickets, call Kitchen Angels at 505.471.7780
To order tickets online please Click Here
A Gallery of a sampling of the artist boxes to be auctioned follows. Click on a photo and then use the arrows on the photo to browse and see the artists' names. Or put your cursor over a photo to see the artist's name. Enjoy browsing and we'll see you at the auction!