Feasting with Friends
October 12
@
12:00 am
–
October 13
@
11:59 pm
Feasting with Friends is a community-wide weekend of lunch and dinner parties to benefit Kitchen Angels with an encouraged date of October 12 & 13 or choose any date in September or October that works for you! Anyone can host a lunch or dinner in their home and 100% of the proceeds will benefit Kitchen Angels.
We are seeking 50 Feasting with Friends dining parties. Each host can entertain with either a lunch or dinner party in their home or a community space. While there is not a ticket fee, donations are expected at each event.
You can host a private or public dinner party. Private means the host invites the guests. Public means the host invites guests as well as Kitchen Angels can assign guests to your dinner party. A public event gives guests an opportunity to attend a Feasting with Friends party should they not know a host. This year's encouraged theme is New Mexican food.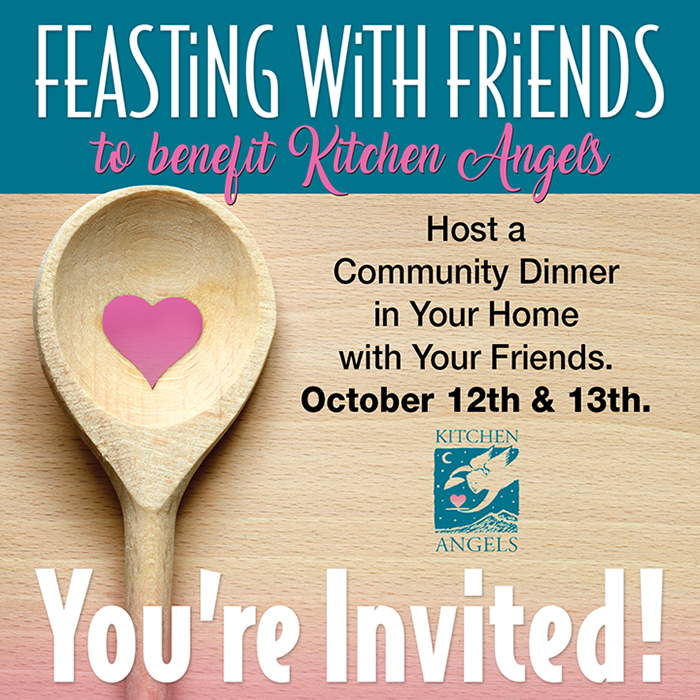 Host Duties
As the Host, you open your home or co-host at a friend's home, prepare a meal, and invite friends.
The Host covers the cost of food, drinks and everything needed for lunch or dinner party.
There is not a ticket fee, but rather donations are expected at the event.
As the Host, you're welcome to encourage a suggested donation amount or leave it up to your guests' discretion.
The event can be as simple or elaborate as you wish.
There is not a minimum or maximum number of guests.
You're welcome to either cook or cater the meal.
Invite your friends, family, coworkers, guests, book clubs, organizations members.
Hosts are responsible for delivering monies and donation envelopes to Kitchen Angels by Friday, October 19, 2019.
Host Kit

Each Host will be given a Host Kit filled with fun items such as a Kitchen Angels engraved wood spoon, coasters, a featured recipe card and a few more sensational surprises!
Registration

To sign up as a Host click here.
If you have any questions please contact Dwayne Trujillo at dtrujillo@kitchenangels.org or 505-471-7780 x204.
Q&A

Q: What is Feasting with Friends?
A: Feasting with Friends is a Kitchen Angels benefit with lunch and dinner parties on October 12 & 13. The host will prepare a dinner party in their home or event space and cover all costs of the event.
Q: How much does it cost?
A: There is not a ticket fee, but rather a financial donation to Kitchen Angels is expected at event.
Q: Does it have to be a dinner?
A: No, feel free to prepare a breakfast, brunch or lunch.
Q: I don't cook. Can I hire a chef or caterer?
A: Definitely
Q: Does it have to be New Mexican cuisine?
A: No. This is the 2019 encouraged theme. Please prepare whatever you like.
Q: What if I can't host on October 12 or 13?
A: You're welcome to host on whatever date works for you.
Q: What if I'm not in Santa Fe?
A: Host a dinner in your city.
Q: I'd like to attend as a guest, but I don't know anyone hosting.
A: No problem, contact Dwayne Trujillo and he'll assign you to a dinner party.