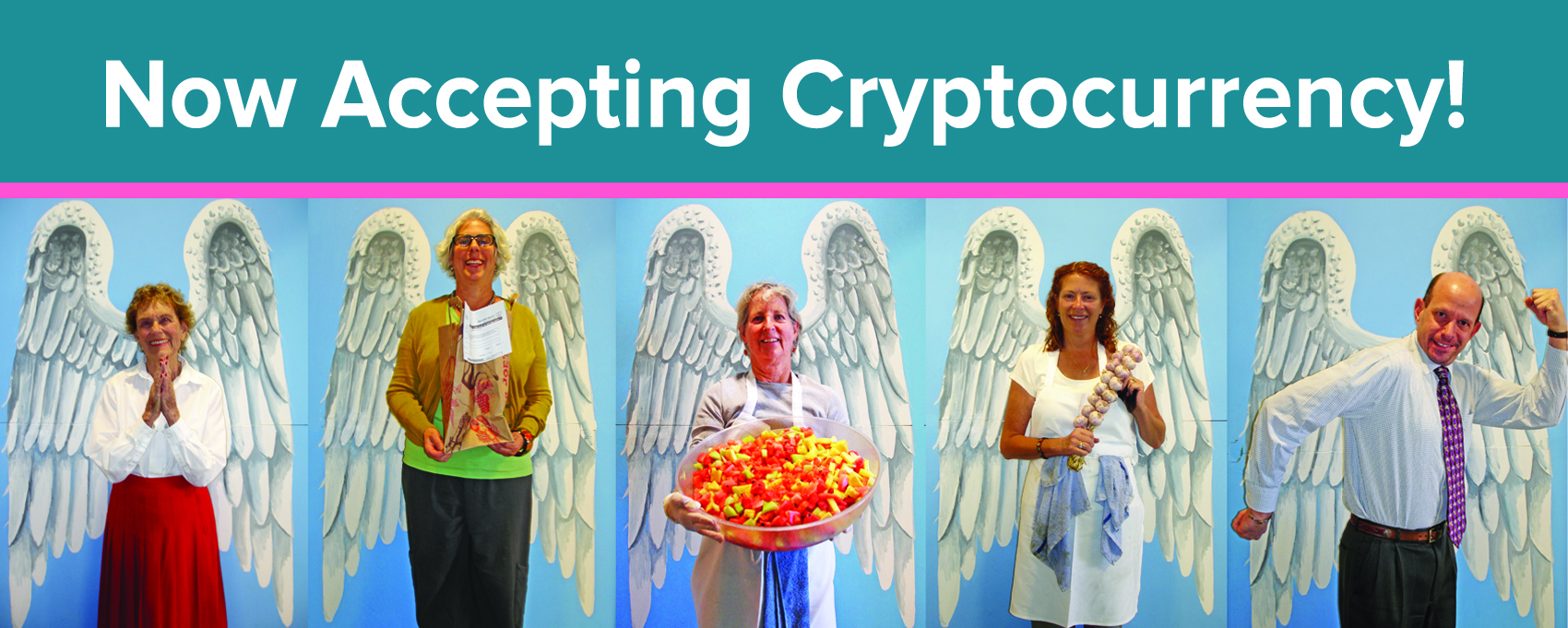 Your crypto donation can provide meals to one client for
one full year at just $2,300.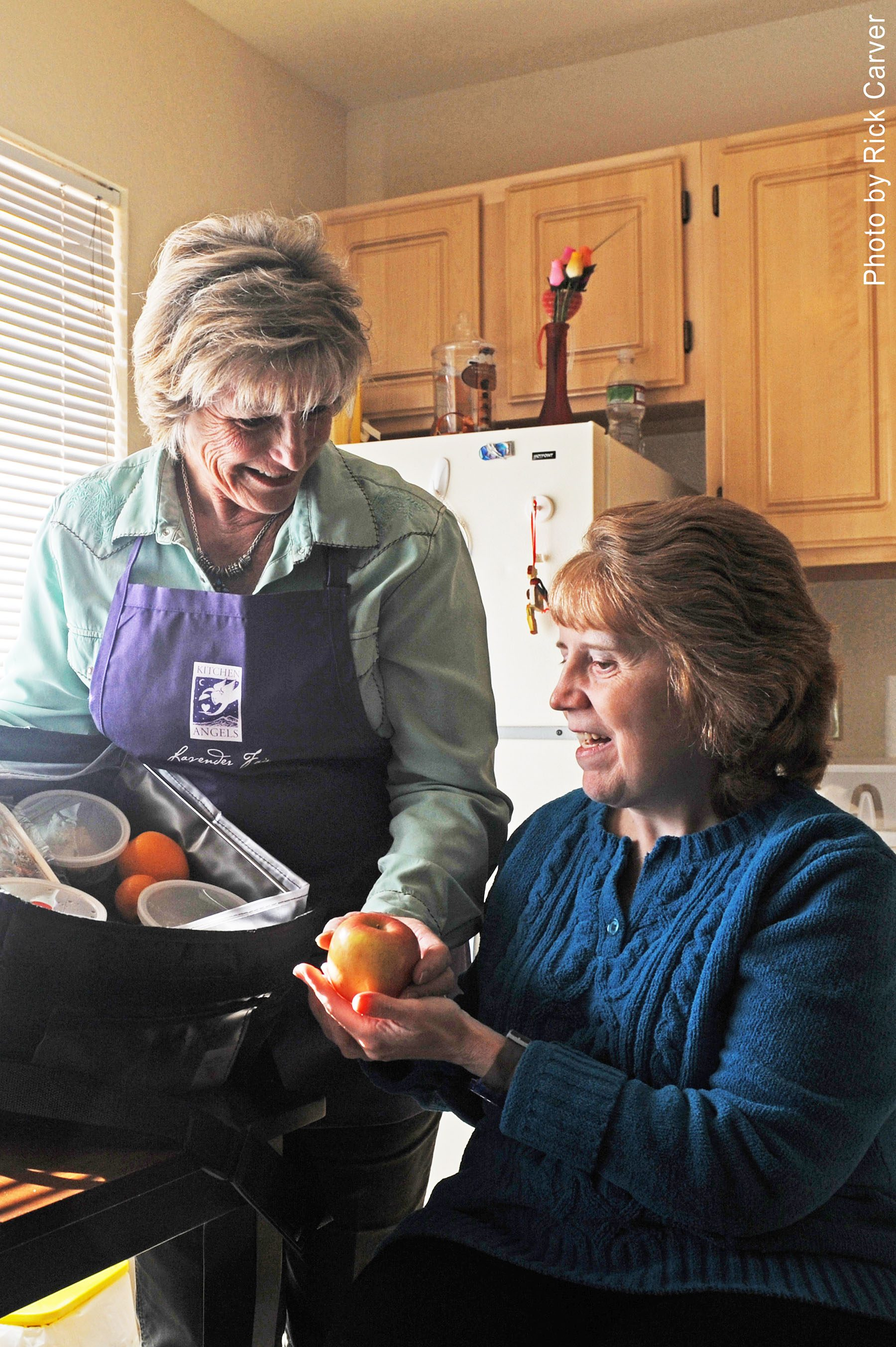 Why should you donate cryptocurrency to Kitchen Angels? Because our primary goal is to increase the overall quality of life for our clients to the greatest degree possible and by that we mean ensuring nutritional needs are met so our clients can remain in the comfort and safety of their own home.
Donating cryptocurrency is a non-taxable event, meaning you do not owe capital gains tax on the appreciated amount and can deduct it on your taxes. This makes Bitcoin and other cryptocurrency donations one of the most tax efficient ways to support your favorite cause. If you want to learn more about how donating crypto can lower your taxes, check out thegivingblock.com/faq. Talk to a crypto-savvy tax professional or connect with The Giving Block for additional questions.
We accept the following cryptocurrencies:
Bitcoin (BTC), Ethereum (ETH), 0x (ZRX), 1inch (1INCH), Aave (AAVE), Alchemix (MIST), Amp (AMP), Ankr (ANKR), ApeCoin (APE), API3 (API3), Audius (AUDIO), Axie Infinity Shards (AXS), Balancer (BAL), Bancor Network Token (BNT), BarnBridge (BOND), Basic Attention Token (BAT), Binance USD (BUSD), Bitcoin Cash (BCH), Bonfida (FIDA), ChainLink (LINK), Chiliz (CHZ), Civic (CVC), Compound (COMP), Curve Dao Token (CRV), Dai (DAI), Decentraland (MANA), DeFi Pulse Index (DPI), Dogecoin (DOGE), Dogelon Mars (ELON), Enjin Coin (ENJ), Ethereum Name Service (ENS), Fantom (FTM), Fetch.ai (FET), Filecoin (FIL), Gala (GALA), Gemini Dollar (GUSD), Injective (INJ), Keep3r (KP3R), Kyber Network (KNC), Lido (LDO), Liquity (LQTY), Liquity USD (LUSD), Litecoin (LTC), Livepeer (LPT), Loopring (LRC), Magic Internet Money (MIM), Maker (MKR), Maple Finance (MPL), Mask Network (MASK), Merit Circle (MC), Metis (METIS), Mirror Protocol (MIR), Moss Carbon Credit (MCO2), Numeraire (NMR), Orchid (OXT), PAX Gold (PAXG), Polkadot (DOT), Polygon (MATIC), Qredo (QRDO), Quant (QNT), Radicle (RAD), Rally (RLY), Raydium (RAY), Ren (REN), Render Token (RNDR), REVV (REVV), Saber (SBR), Shiba Inu (SHIB), Skale (SKL), Smooth Love Potion (SLP), Solana (SOL), Somnium Space (CUBE), Spell Token (SPELL), STEPN (GMT), Storj (STORJ), SushiSwap (SUSHI), Synthetix (SNX), Tezos (XTZ), The Graph (GRT), The Sandbox (SAND), Tune.FM (JAM), UMA (UMA), Uniswap (UNI), USD Coin (USD), Wrapped Centrifuge (WCFG), Yearn.finance (YFI), Zcash (ZEC), Zebec Protocol (ZBC)
Thank You for supporting Kitchen Angels! Cooking up Care since 1992.
Refund Policy
All cryptocurrency donations made via The Giving Block are nonrefundable. Our nonprofit clients work hard to ensure that every token that is donated is put to work as soon as possible. When they receive your donation it is understood that this is made to support their mission and they are grateful for your support. As these donations are often immediately converted into fiat, we do not offer refunds on any donations that are made in cryptocurrency. We are not able give refunds if you changed your mind, sent the wrong cryptocurrency or made the wrong decision.
The Giving Block does not, has not, and will never offer any form of cryptocurrency airdrop, goods or services in return for a donation.